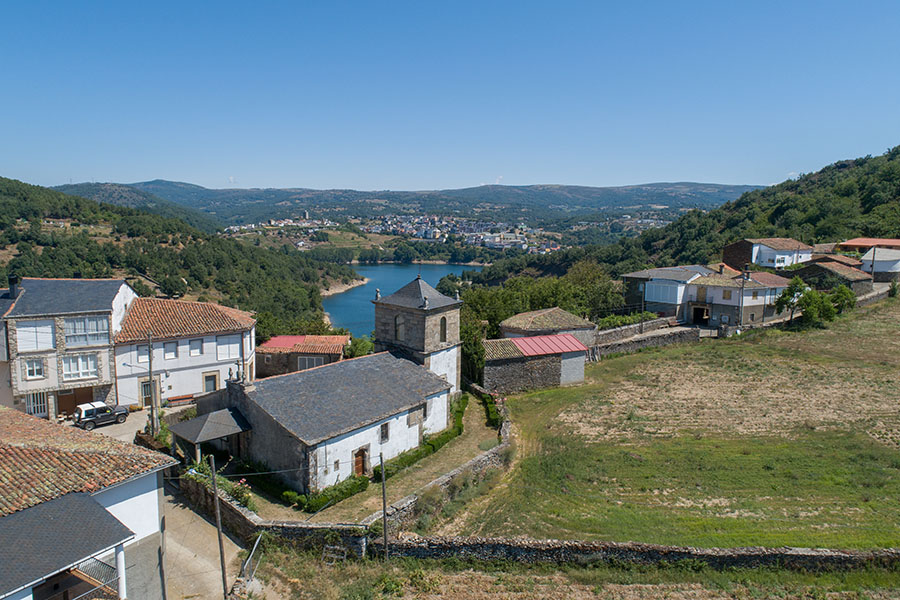 A document from the year 916 has been preserved in which Ansuri, bishop of Ourense, together with the bishop of Astorga Saint Genadio and the king Ordoño II, confirm a property of the monastery of Saint Cibrán of Pinza. In the time of King Afonso VI and his wife Constance, another document quotes the "Sancti Cypriani monasterium," which might well have been this church of Saint Cibrán.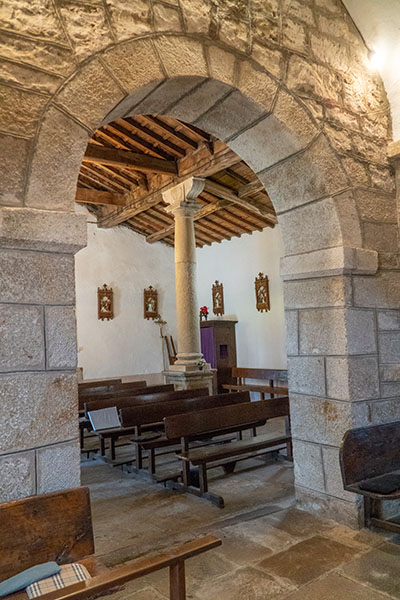 We are in front of an ancient temple of Romanesque origin and plan
basilica that is based on a Roman basilica, with a main nave and two secondary aisles, being unique in the region.

The triumphal arch, which separates the altar from the nave, possesses a curved semi circular arch supported by a carved impost with an overhanging edge. A unique structure with five semicircular arches separates the main altar from the nave and the side chapels.


The nave, covered by a colourful wooden structure, rests on brackets and beautiful cylindrical columns of a single section superbly carved in Doric style. A baptismal font with a simple cup, lacking decoration, is preserved for older people.
A part of the exterior of the temple, built in the Modern Age, timidly points to a baroque style in elements such as the curved moulded door of the South wall. However, the Romanesque base of Saint Cibrao is evident in the bell gable or on the main facade, very restrained, but with a clearly medieval form, with two semicircular arches - one of them with convex moulding - protected by a frame and supported by an impost.


The Geographic-Statistical-Historical Dictionary of Spain and
its Overseas Possessions states that the church of "Saint
Ciprián of Viana "(…)" is very old, poorly built, and is
attached to that of Saint Mary of Pinza. "However"the land is of
good quality; partly covered by the waters of the river Camba
by means of a dam ". At that time Saint Cibrao had "30 neighbours" (householders) and "136 souls" (inhabitants). "

Pascual Madoz
(1847)